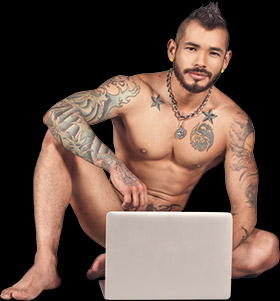 Like the thousands of guys and men from around the world who watch porn, when we're watching porn, we're doing it on our own - fueling our fantasies with the hard-core action playing out on our screen.
But what if you allowed yourself to get a bit more interactive?
Squirt.org offers members the opportunity to be part of your real-life porn movie with our gay cams. Check it out and see if it's for you.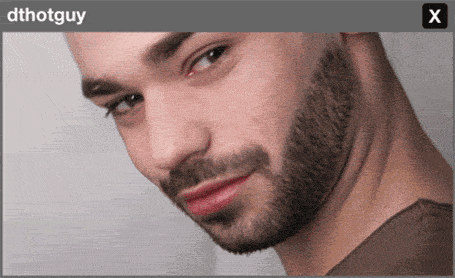 Do I Need Equipment to Use Squirt.org's Gay Live Cam?
The good news is that you've probably already got everything you need to start your gay video chat and make your male pipe dream a reality.
Your laptop and phone include a built-in camera and microphone that will provide high-quality pictures and audio to get you started.
Suppose you find that watching or performing on camera is something that gets you going. In that case, you might want to invest in a camera that you can move into different positions to get some exciting angles while you play with other men on your computer or mobile screen.
You probably want to think about the lighting in the room where you're broadcasting to enhance your webcam chat and meet new people. You should have great lighting to look just like the pornstar in your favorite film.
Can I Just Watch, or Do I Need to Be On Male Cam?
We get it. Working up the courage to move from text chat to hot live video chatting can feel exhilarating and nerve-wracking.
If you're a bit of an exhibitionist, you'll love the thrill of knowing that someone is watching you while you're jacking off. However, not everyone wants to be centre-stage.
When you're just starting, it's a good idea to watch other guys at work before turning the camera on yourself. This way, you can learn the ropes, find out if you like what you see before getting in on the action yourself and turning the camera on to participate in the excellent time.
Even if you're not broadcasting, you can still interact with the guys that you're watching.
For example, you can still send them messages, encourage their efforts, give them suggestions on what you'd like to see them do. Pretty soon, you'll be a pro, ready to not only describe what you want to see but leading by example in all your HD glory!
Will Other Gay Men Recognise Me?
As with any aspect of gay dating or hook-ups, make sure that you're clear on your limits before you start experimenting.
If you want to perform on cam but don't want to show your face, do a test of your equipment and set up to double-check that you're only showing what you want.
Think about wearing a mask - something like a wrestling mask or a leather mask can be an added turn-on or fetish for certain male members.
Of course, many gay men don't care who sees them online, naked, getting off - for some of us, that's part of the turn-on. It's great to have the freedom to embrace your sexuality without shame and let the world see you in all of your glory.
Can I Meet Up with Males I'm Watching on Gay Cams?
That's the beauty of a gay dating app like Squirt.org. Our gay cam members are gay men seeking men to get sexy with - either in real-life, in person or with some hot and heavy chat.
Check out the guy's profile as their profile will tell you where they live, what they're into, and what they're looking for when it comes to sex and having fun. Their Squirt.org profile will also give you any photos or videos that they've uploaded.
Start a chat with them or send them a direct message. Let the men online know that you're a fan of what you've seen on cam. Once you do that, see where things go from there!
Find Hot Guys on Cam with Squirt.org
Navigate to the "LiveChat" section of Squirt.org and select the "Cam Chat Rooms" option; this will then show you a list of the Cam Chat Rooms available and how many members are active in each one. One of our most popular chat rooms is "Cam 2 Cam Jack Off."
Once you select the chat room you want, this will open a new window, and you've got the options to watch the cam shows of other users, chat with other users, and broadcast your camera. You can even record your broadcast and add it to your profile on Squirt.org.
Register now for some good old on-camera fun. Lights! Camera! Action: it's time to get naked and show the world what you've got!